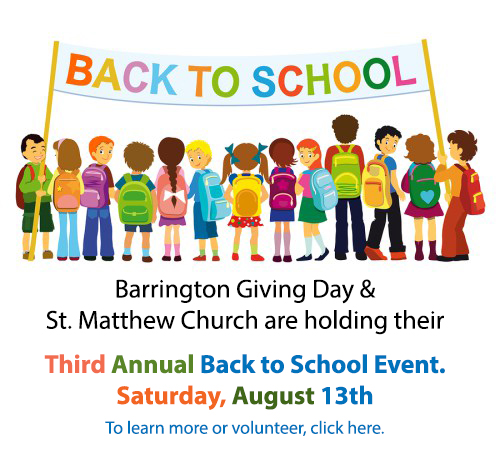 GIVING DAY NEWS
One again the Barrington Junior Women's Club made a very generous $3,000 grant to Barrington Giving Day! This grant will help purchase … Continue reading →
UPCOMING EVENTS
Free Vaccine Clinic
There will be a free Vaccine Clinic for students entering 6th, 11th, and 12th grades in the fall of 2016.
The clinic will be held on Saturday, June 11, 2016 at the Fait Lutheran Church, 2525 Helm Road in Carpentersville. It will be open from 9am – 11am.
NOTE: BRING VACCINATION RECORDS.
Confirm your appointment
Send an email to btsevaccine@gmail.com to make an appointment and confirm your participation.
Download flyer for more information: FREE VACCINE CLINIC FLIER 5 12 16